Similar to a standard checking account, there are limits on the amount of money that can be withdrawn on a daily basis.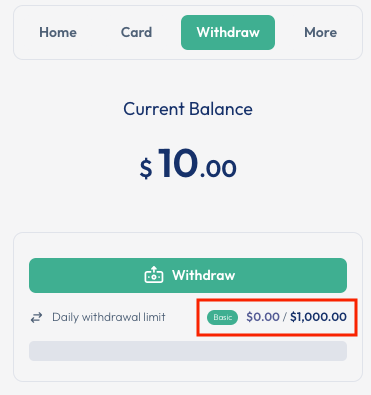 To view your withdrawal limits, select "Withdraw" from the top menu on the home screen. Immediately below the button labeled "Withdraw" you will see a summary of your daily threshold alongside the total withdrawn already that day. Should you try to withdraw more than this limit, the platform will display an error.
Note: the daily withdrawal clock will reset each day at 12 a.m. EST.
Note: Visuals above are renderings of the in-product experience created by the Checkr Pay team. As Checkr Pay customers can customize the look and feel of the app experience, some colors, fonts, and copies may appear differently in your specific gig platform.