To connect an account, select "withdraw" from the top menu on the home screen. Navigate to the withdraw button in the middle of the screen and enter the amount. There are two speeds, Fastest and Standard. Once the speed is selected, you will see an option, "Select Your Destination". You may use Plaid to link your account or link your bank account manually.
To select fastest, Checkr Pay partners with Astra for Debit to Debit transfers. After entering your debit card details, select submit. Once added, you will be directed to the details screen to confirm your withdrawal.
Note: The debit card address must match your Pay profile address.
Your account details will be saved for future use under "Select your Destination".
That's it!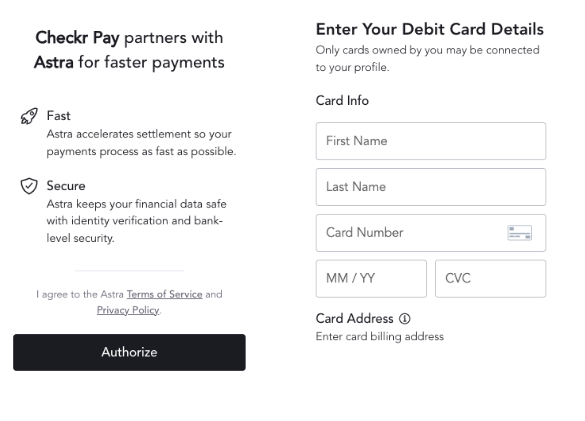 If you want to remove an account you have added in error or replace it with another, please submit a ticket at support.checkrpay.com.
Where To Find Your Bank Account & Routing Number
Physical Checks
If you happen to have physical checks around the house, it can be the easiest place to look for your bank account number and routing number.

With your check in hand, you'll typically find your nine-digit routing number in the bottom left corner of the check. After the routing number, you'll see your account number. The final set of numbers of your check is just the check number.
Bank Account Statement
Whether you receive a paper bank account statement in the mail or receive paperless versions, you can find all of the account numbers you need. The exact placement of your account number will vary from bank to bank. But typically, this important information is near the top!
Bank Online Portal
Simply log into your bank's online portal. Once you're in, you'll need to look around to find your account number. Different banks place the information in different places. But in some cases, you'll see your account number right before your account name. In others, you may need to head to the account details area.
Things to note:
If your withdrawal is submitted before 3 PM ET, the transfer will be initiated on the same business day. Withdrawal requests that are submitted after 3 PM ET, or on a weekend or holiday, are initiated the next business day.
*Banks have varying processing times for funds availability, your bank may require more time to release your funds. Please contact your individual bank to inquire when your funds will be available for you to use.